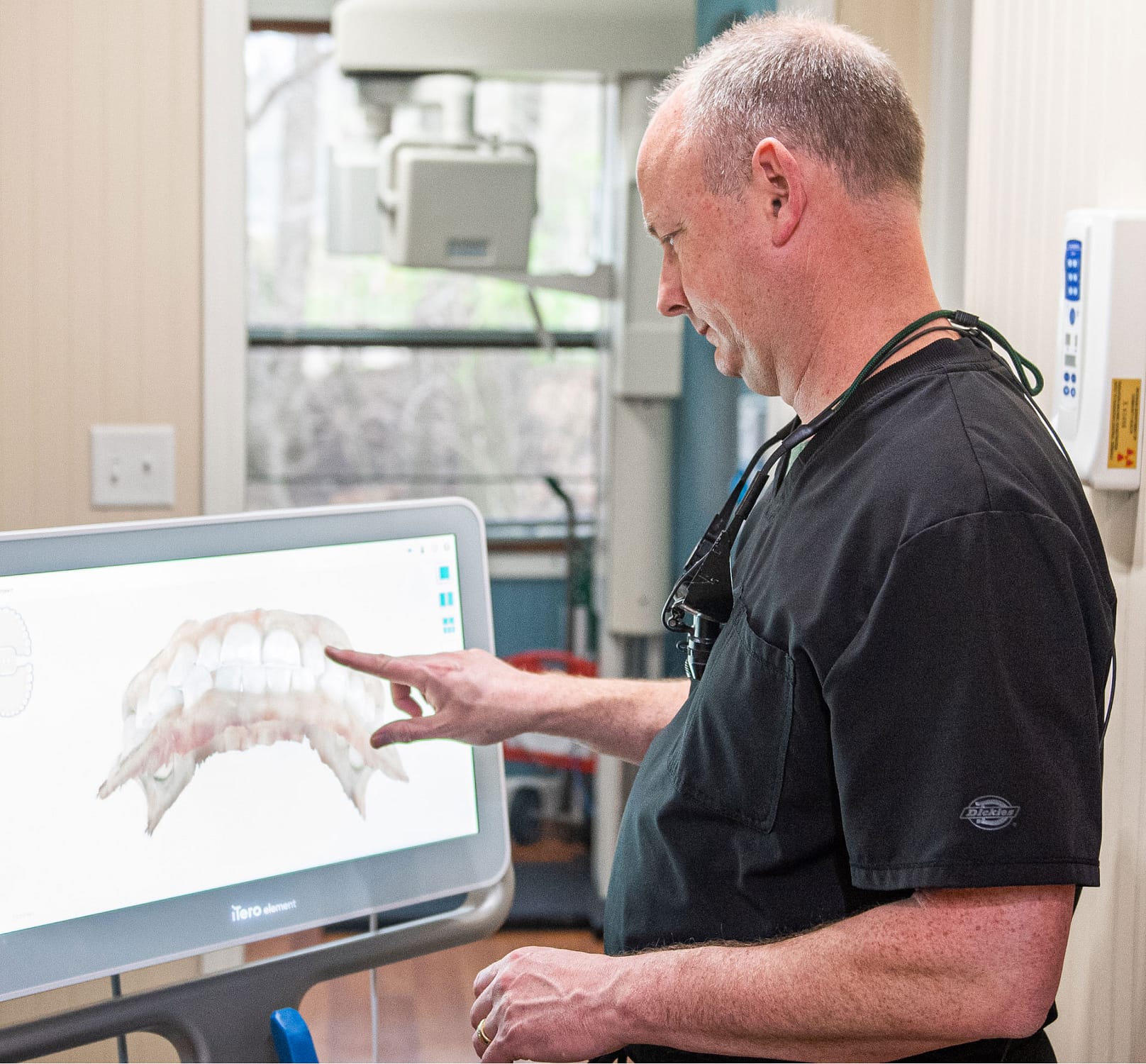 Dental Care That Works for You
Dental Care That Works for You
Preventative Care
Equipped with the latest in digital technology and committed to your well-being, we have the knowledge and the skills to address all of your family's dental needs.
Learn More about preventative care
Cosmetic and Restorative Improvements
Specializing in Invisalign and other cosmetic and restorative treatments, we'll help you feel proud of your smile while prioritizing your comfort.
Learn More about cosmetic dentistry
Neuromuscular Dentistry Expertise
We have the technical skills, experience, and resources necessary to look beyond your teeth and gums and evaluate how your bones, muscles, nerves, and joints contribute to your oral health.
Learn More about Neuromuscular Dentistry
Your oral health and well-being are our top priorities.
At Berrien Dental, we combine the latest technology with a skilled, compassionate team to provide leading preventive, cosmetic, restorative, and neuromuscular dental care to adults and children alike. We know that a great smile can change your life, and we're determined to help you feel confident about yours.
Dental care today doesn't have to be tedious or time consuming. Specializing in the latest techniques and procedures designed to enhance comfort and improve efficiency, we get you the care you need and the results you want so you can get back to loving your smile.
Let us restore your smile. Call to set up an initial appointment for you or your family.
Dr. Christy has dedicated over 25 years to Berrien Dental, working at the office since purchasing the practice in 1996. His interest in dentistry is personal, having been profoundly impacted by breaking his front teeth as a child. He pursued a career in dentistry in order to maintain a hands-on career and have the opportunity to help people smile each day.
Dr. Balsis has been with Berrien Dental for over 12 years. He graduated from the University of Detroit School of Dentistry after studying human biology and human physiology at Michigan State University. Committed to helping all of his patients fix what ails them, Dr. Balsis prioritizes his continuing education, participating in the Las Vegas Institute for Advanced Dental Studies.
Dr. Bauman got into dentistry because it allows him to help improve people's lives on a daily basis. He completed his dental studies at the University of Detroit Mercy after studying biology and Spanish at the University of Michigan and comes to Berrien Dental with a background of combined experience in public and private practice.
What are you looking for?
Services We Offer.
Invisalign
An efficient, convenient, and discreet method to straighten your teeth and correct your bite, Invisalign achieves results without disrupting your daily life.
Learn More about invisalign
Crowns and Bridges
Fillings and Root Canals
Veneers and
Dental Bonding
Periodontal Therapy
Full Mouth Restoration
At Berrien Dental, dentistry is more than just our job. It's our passion.
For us, dentistry is personal. We know how much a great smile can transform your life, and we are excited that we get to help our patients live with more confidence in themselves and their health. We also know that dental visits can be stressful for some. Not at our practice! We make sure that your patient experience is as simple and easy as possible so you can get the care you deserve without any of the hassle or stress.
Are you interested?
Take the first step to restoring confidence in your smile.
OFFICE HOURS:
Monday 8AM-5PM
Tuesday 7AM-5PM
Wednesday 8AM-6PM
Thursday 8AM-5PM
OFFICE HOURS:
Monday 8AM-5PM
Tuesday 7AM-5PM
Wednesday 8AM-5PM
Thursday 7AM-5PM
If you are ready to make your next appointment with us, please fill in the form below.
We will have one of our helpful team contact you very soon to arrange a convenient time and date.
This form cannot be used to cancel or change appointments. You must call the office personally. We require at least 24 hours notice to cancel or change a scheduled appointment.
For the Berrien Springs office call (269) 471-4055 or for the St. Joseph office call (269) 983-4311.