7 Family Games, Crafts, and Activities for the Holiday Season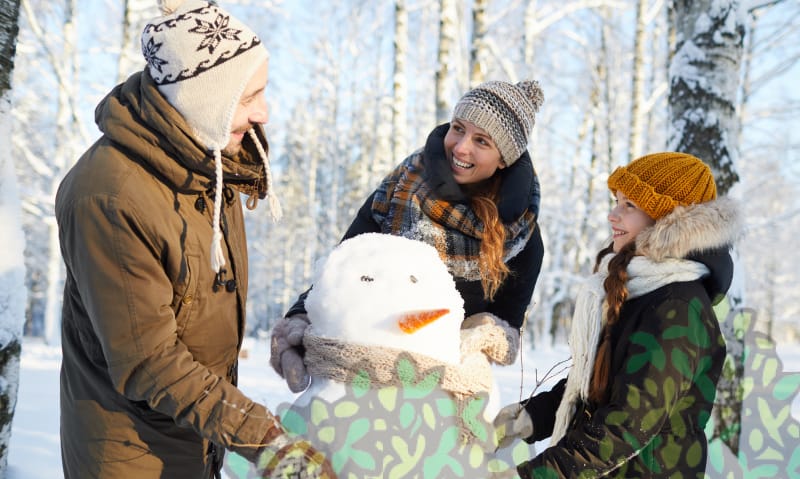 Fun Things for Families to Do Together This Holiday Season
With the Christmas holiday upon us, families and extended families are looking forward to spending time together. Though any time families can spend together is good, family time spent doing holiday family activities can be that much more memorable. So why not plan some family games, crafts, and activities to make Christmas 2021 in St. Joseph, Michigan, one that will go down in the history books? To make it easier for you, Drs. Christy, Balsis, and Bauman have put together a list of their family favorites. So give these a try, and at your next appointment, let us know what you think. Or, share a new idea with us that we might like to try at home too!
1. Have a Christmas gift-wrapping race.
If you are like many adults, you stress about having gifts under the tree that are perfectly wrapped and adorned with matching ribbons and bows. And though beautifully wrapped gifts certainly add to the ambiance and holiday décor, there are other fun ways to use that wrapping paper and bring a smile to the faces of those you love. Why not add a Christmas wrapping race to your list of holiday family activities? Grab a few rolls of your favorite wrapping paper, box up some gifts (or even use some empty boxes if you're not exchanging gifts), and ask each family member to wrap something for someone else. Whoever can wrap their package the fastest wins. And what do they win, you might ask? The right to boast of their victory throughout the 2021 holiday season!
2. Make a Christmas scavenger hunt.
We tend to eat a lot of excess calories during the holiday season, and this feeling of extreme fullness can leave us wanting to sit on the couch for hours on end. Instead of letting those excess carbs stew in our bellies, encourage the family to get off the couch and participate in a holiday-themed scavenger hunt. Start by gathering up and hiding some holiday goodies or taking note of what you have in the house. Create a Christmas scavenger hunt list that includes candy canes, Gingerbread cookie ornaments, a Christmas wreath, Christmas lights, and more. Then, distribute a list to all family members and see who can find all the items first.
3. Play Christmas Mad Libs.
Thanksgiving Mad Libs were quite the rage this year in households all over the country. So if you missed out or enjoyed the Thanksgiving version so much, why not try a version of Christmas Mad Libs too? Be as silly or as serious as you'd like when filling in the blanks. No matter how you play, you'll be sure to get some laughs even out of the stubbornest of holiday grinches.
4. Make your own Christmas tree garland.
Many families enjoy creating garlands from a beaded rope, popcorn, and other popular items. And there are many other fun Christmas garlands you can make with kids. As one of your family activities, try making a garland with aluminum foil, coffee filters, sprigs of pine, paper snowflakes, or a variety of other fun materials. Then, display the garlands across the house for all of your loved ones to see and enjoy.
5. Get out in the snow and build a snowman.
When the snow falls, most kids are eager to get outside and play. Whether it be sledding, making snow angels or an ice castle, or building a snowman, playing outside in the winter snow provides plenty of fresh air and exercise. So build a snowman together and take some family selfies in front of your creation. Then, post photos of your snowman for all the world to see.
6. Bake a candy cane cake.
Yes, we know what you are thinking. Why would your favorite family dentist be telling you to bake a candy cane cake when candy canes are full of sugar and are bad for your teeth? Let's just say we have found a candy cane cake recipe that uses fewer candy canes than other versions. So that means fewer sticky treats to get stuck to your teeth. And of course, don't forget to brush and floss your teeth after you enjoy your slice of cake or two at your next family gathering.
7. Make a family handprint Christmas wreath.
Finally, why not memorialize the family with a family handprint Christmas wreath? Take turns tracing each other's hands on varying shades of green construction paper or felt. Cut out the hands, and then arrange them into the shape of a wreath before gluing the pieces together. Top off your family handprint Christmas wreath with some red circles to represent berries, and tie a red bow at the top. Hang the wreath in your house for all of your guests and loved ones to enjoy throughout the holiday season.
Don't forget to visit your favorite family dentist for a dental cleaning.
The holiday season can get busy, and it can be easy to forget important to-dos such as getting in to the dentist for an oral examination and dental cleaning. So don't forget to request an appointment using our online form or give our office a call to get on the calendar. Let's work together to make sure your smile is as healthy as it can be for the holidays and after.