7 Things to Know Before Getting Invisalign Braces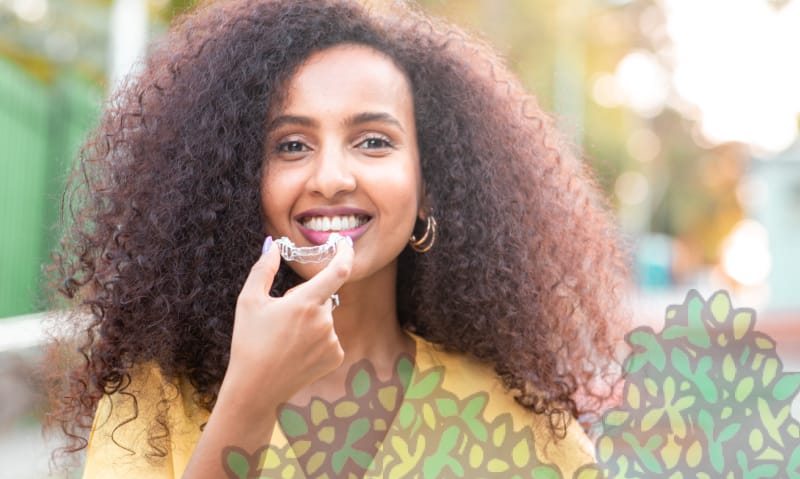 Invisalign braces are an excellent option for adults and teenagers who want straighter teeth but don't want to deal with the look and feel of traditional metal braces. Not only that, but these braces are removable, meaning they can be taken out of your mouth when you need to eat or when it's time to brush your teeth.
The convenience alone is often the reason that patients choose clear aligners. And though Invisalign braces are one of the best orthodontic options, you should know some other important things before selecting this type of braces.
What You Should Know About Invisalign Braces
So, let's say you want a straighter smile and you are thinking about Invisalign braces. Though your dentist has probably already told you all about clear aligners, you probably still have some questions. The team at Berrien Dental in Berrien Springs and Saint Joseph has put together a list of 7 things that we think you should know about them.
1. What are Invisalign braces?
Let's start by making sure you understand what these braces are. Quite simply, Invisalign is a non-invasive orthodontic treatment using a series of clear, removable aligners that discreetly and effectively correct misalignments in your smile, including:
Malocclusion (overbite and underbite).
Unevenness.
Gaps.
Crowding.
2. Who is a good candidate for them?
Invisalign braces are an excellent choice for teenagers and adults who want to correct their bite and obtain a straighter smile, but don't want the hassle associated with more traditional metal braces. Further, this treatment is a great choice for those who might find it tricky brushing around their metal braces. That said, this treatment is not the best choice for people who have severely crooked teeth or neuromuscular bite issues, and in these cases traditional braces may be the best option.
3. How do Invisalign braces work?
Invisalign is an orthodontic treatment that aligns teeth that are crooked or otherwise misaligned. Using clear aligners fabricated using computer-generated images and impressions of your mouth, Invisalign aligns your teeth through a series of molds that guide your teeth into their new and improved position.
4. How much do the aligners cost?
The cost for Invisalign braces is often higher than the price for traditional metal braces; however, the difference between the two treatments is not significantly different. That said, we can't provide a specific price for these clear aligners because each patient is different. Pricing is based on your unique needs and the length of time that will be required for your teeth to be straightened. The best way to find out how much Invisalign braces cost is to consult with your Saint Joseph dentist.
5. Is it painful to get Invisalign braces?
The team at Berrien Dental makes the Invisalign process a breeze. We provide comfortable care with the best in dental office technology. But aside from that, the process of getting and wearing the Invisalign aligners is a relatively comfortable one. Invisalign isn't painful, but your mouth might be sore for the first couple of days after you get them due to the pressure that is designed to guide your teeth into their optimum position. While it can be a strange feeling at first, most patients find this quite manageable. Further, the soreness you experience is often a great motivator as it reinforces that you will have a beautiful and straight smile when treatment is done.
6. Why should you choose them over traditional metal braces?
Patients who choose Invisalign over traditional braces often do so for the following reasons.
Clear: These aligners are made from see-through BPA-free plastic. This means that most people will have no idea you are even wearing braces aside from you or your dentist. This makes the Invisalign option highly attractive for those who may experience anxiety related to the prominence of traditional braces.
Convenience: With conventional metal braces, your braces are on permanently until your dentist or orthodontist removes them. However, with these braces, you only need to wear your trays for 20 to 22 hours per day. This means you can take the aligners off when it is time to eat and when you need to brush or floss your teeth.
Time: Traditional braces take an average of two years or more to do their magic. With Invisalign braces, you can anticipate that your treatment will be completed within six to 19 months.
Cost: Though Invisalign braces are generally more expensive than traditional metal braces, the price difference is not that significant. Further, you are paying for a highly effective treatment that will take less time.
7. What are the after-benefits of Invisalign braces?
One of the best things about Invisalign is that you will experience all of the benefits of traditional metal braces when your treatment is done. This means that you can fast track your way to a straighter and more confident smile. And there are so many benefits to smiling, that with Invisalign, it is tough to go wrong.
Where do I find a dentist that offers Invisalign services near me?
Now that you know everything you need to know about Invisalign braces, you probably want to know how you can find Invisalign services near you. And the answer is easy. If you live or work in the Berrien Springs or Saint Joseph, Michigan, areas, then the Berrien Dental team can help. All you need to do is request an appointment, and we'll guide you through the next steps.