7 Ways to Set Yourself Up for Success After Crisis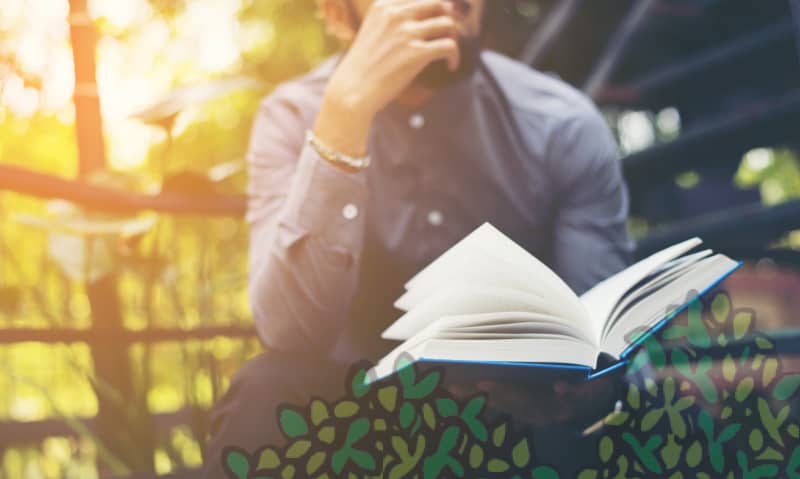 Life might feel crazy right now, but you can regain control and make this a success.
Crisis might feel like an extreme word to describe where you are at this moment. Or it might be completely accurate to how you feel as you worry about the success of your financial future, your health, and your family. Your normal work or school routine and your social life may be upended. Even running errands and going out for dinner has changed.
But these changes may be a blessing in disguise. You can use this downtime to reevaluate your life, take steps toward improving your career, or simply recharge for when life goes back to normal.
Here are 7 different things you can do to make sure you come out on top when society gets back on track.
1. Catch up on those books, journals, or articles you've been meaning to read.
A study found that when asked what activity they wish they did more, 35% of Americans chose reading. In fact, reading came only second to exercising. If this sounds like you, we have some good news. Right now is the perfect time to catch up on any books, journals, and articles you've been meaning to read. If your company or college has a recommended reading list, you can also choose options from there.
Another fantastic idea is to combine reading with personal growth by reading self-help books. You can find the Amazon Best Sellers list for self-help books here. If it's an escape from reality you're really craving, a fantasy book or a novel might be the ticket.
2. Think about what you want for your future and take the time to draw up some mind maps or write down your life goals.
If you're feeling a little lost in life at the moment, right now is the time to think about what you want out of life. Grab a piece of paper and write down where you want to be in three months, one year, five years, 10 years, and even where you want to be in your lifetime. Think about what you want to be doing, both in terms of your lifestyle, your career, your family and relationships, and your hobbies. What is your vision of success?
Once you have an idea of how you'd like your life to look, start to create SMART goals that will help you accomplish what you need to do to get there. Mind maps are also a really handy brainstorming method that is perfect for life planning. You can find some helpful advice on setting achievable life goals here. If you need help with creating mind maps and outlining how you'd like for your life to look in the future, here is a start.
3. Polish your resume or work on your pitches if you're looking for a new job or clients.
Many people are experiencing big changes with work. Some have unfortunately been let go and others are rethinking whether their job choice during this break. If you're finding yourself in one of these positions, right now is ideal for updating and polishing your resume.
If you're an entrepreneur, freelancer/contractor, or self-employed, you could also use this time to update your online portfolio or website, work on your pitches, and even create new templates for email proposals.
4. Learn a new skill or upgrade your existing skillset by taking an online class or catching a webinar in the comfort of your own home.
Netflix is great for relaxing, but you can also stream online classes and webinars to learn a new skill or level up your current knowledge. You can find online classes for everything from trick training your dog for fun to serious email marketing tactics to help you with your success at work.
Three wonderful websites for online classes are Lynda, Udemy, and Skillshare. Most of these types of websites even have free trials lasting anywhere from a week up to two months. As for webinars, a simple Google search for webinars on the topic you're interested in is most effective.
5. Connect with others personally and professionally by making webinars or videos of your own.
Another great idea is to share your own skills with others through webinars or videos on social media. Maybe you're great at coding, you're a freelance graphic designer, or you're a pro at customer service conflict resolution. Sometimes simply sharing what you're passionate about will prove to be content others will connect with best. Maybe you have a green thumb and want to help others keep their houseplants alive or you love everything about decluttering and organizing a home.
We guarantee there are others out there who will appreciate your help and ideas, so start sharing! If you really get into it you can also add your own courses to Skillshare.
6. Fight the fear of the unknown by outlining a Plan B blueprint for success.
Catastrophizing is a common symptom of anxiety that revolves around thinking the worst of a situation. Fixating on the worst possible scenario is exhausting, but in some cases acknowledging your fears and reacting with logic can quell your worries.
If you're concerned over what's going to happen, take the time to sit down and create a Plan B. For example, if you fear losing your job and not having a source of income, make a backup plan now. Maybe you can put together a list of potential job opportunities and begin to set aside emergency savings.
Think about what worries you, what could go wrong, and what you can do to cope with the situation before it happens. If your worries don't become reality, wonderful! But if they do you're prepared to handle the situation.
7. Most importantly, remember to rest and practice self-care whenever you can.
While you're busy adapting to a new lifestyle and looking for ways to keep yourself busy at home, don't forget to take the time to simply rest. If your stress is at an all-time high, invest time in de-escalating.  Constant stress hurts your brain as much as your immune system.
Set aside time every day to practice self-care and simply rest your body. Some helpful ideas include:
Taking a nap, even if it's just a 15-minute power nap.
Follow a guided meditation with your eyes closed.
Set a 10-minute timer and simply observe nature.
Use an app like Calm or Headspace for calming sleep sounds.
You'll find that with plenty of rest and self-care you'll feel newly energized, motivated, and feel more clarity about your future.
The Berrien Dental team looks forward to seeing you once we get back from our short break.
While you're busy using your time to set yourself up for success the Berrien Dental team is working hard to keep our patients safe and our office spick and span. We are currently postponing non-urgent dental appointments, but if you do find yourself experiencing a dental emergency during this time we're ready to help.
To schedule your urgent appointment please call our office.