Are Dental Veneers the Cosmetic Solution You're Dreaming Of?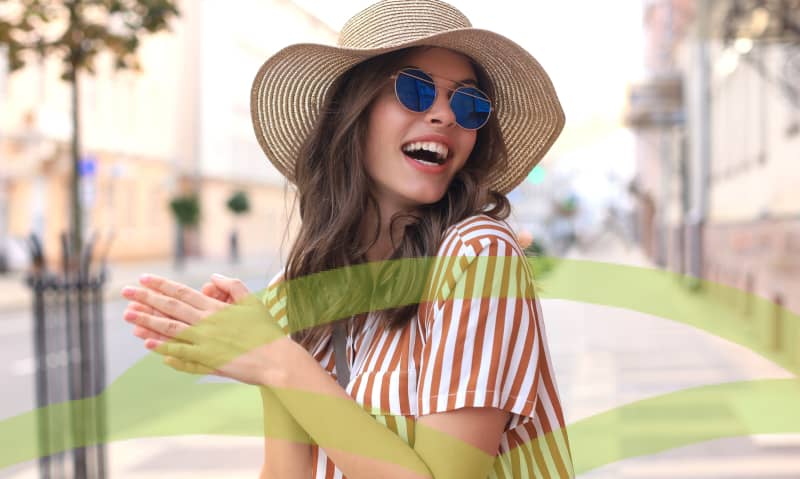 Have you always wanted a gorgeous smile? Do you want to light up the room when you walk in the door? Have you ever felt that you had to hide your smile because your teeth were misshapen or discolored? If your confidence has been anything less than stellar and you blame it on your teeth, it might be time to think about cosmetic dentistry and a smile makeover. You might find that dental veneers are the cosmetic solution you have been dreaming of.
What are dental veneers?
Let's start by explaining what dental veneers are in the first place. Dental veneers are a popular cosmetic dentistry treatment often used as part of a smile makeover. Veneers are custom-made tooth-shaped pieces of thin porcelain that are permanently attached to the surface of your teeth to improve your mouth's appearance. They are used to cover teeth that are permanently stained, broken, chipped, cracked, misshapen, slightly crooked, or uneven. Dental veneers can even cover gaps between your teeth or lengthen your teeth to improve the appearance of a gummy smile. But best of all, veneers look natural.
You may be wondering how much veneers cost, and the truth is that the cost of dental veneers can vary based on your particular needs and the uses that you are trying to fix. For example, the price will vary on factors such as the condition of your original teeth, how many veneers you'd like to get, and the type of material you select for your veneers. Though we always try to be efficient with the number of appointments necessary to fit and place your veneers, the cost can also go up or down based on the number of visits required.
8 uses for dental veneers
As we alluded to earlier, dental veneers can help with a variety of dental concerns facing your front teeth. And though some of those uses may be quite obvious, there are some uses for dental veneers that you might not have thought of. Check out this list of things that dental veneers can do for your smile and overall self-confidence.
Straightens your teeth
Provides a natural-looking solution for teeth that are misshapen or discolored
Restores frail teeth
Lightens darker teeth by making your teeth look whiter and brighter
Strengthens and protects natural teeth
Corrects minor alignment problems
Makes short teeth appear longer for a fuller and less gummy smile
Closes gaps between your teeth
Whatever use you are trying to solve for with your veneers, you'll be sure to experience various benefits. In particular, you'll enjoy the following.
Convenience because porcelain veneer treatments are non-invasive and fast
Versatility because your veneers can effectively correct several cosmetic concerns, such as misalignments, gaps, chips, stains, and discoloration
Results that will be long-lasting – you won't likely need to replace your veneers for at least 15 years
What to Expect from a Veneer Treatment
During your first visit, one of the dentists at Berrien Dental will review the goals you have for your smile and will determine whether your mouth will respond well to veneers. Next, we'll determine which type of veneer will give you the smile you desire, and we'll provide you with a temporary veneer to protect your teeth.
We will use an injection or spray to numb each affected tooth. Then, we will file away a thin layer of the front and bottom of your teeth. Any necessary or desired gum reshaping will also be done at this time. We'll test the fit, bite, and comfort of the veneers before taking impressions to ensure that your veneers are made to the right specifications for your mouth. We tell our patients to anticipate that they will wear their temporary veneers for one to two weeks.
You will make a return trip to Berrien Dental once your veneers come in so that we can place them in your mouth. The procedure to place your permanent veneers is similar to what we do when your temporary veneers were placed. We'll remove your temporary veneers while you are under anesthesia. We will clean, dry, and prep your natural teeth for the porcelain veneers, and we will then place, fit, file, and test them before bonding them onto your natural teeth.
You should anticipate that the process for your porcelain veneers will take three to four weeks. And though this might seem like a lot of time, as we said earlier, you should know that veneers can last up to 15 years, especially if you keep regular checkup appointments and practice good oral hygiene.
Let Berrien Dental, your dentist in Berrien Springs or St. Joseph, MI, customize your dental veneers for you.
If you're thinking that veneer teeth can help give you the smile you desire, now is the time to schedule a consultation with Berrien Dental in Berrien Springs or St. Joseph, MI. For the Berrien Springs office call (269) 471-4055 or for the St. Joseph office call (269) 983-4311. Or feel free to request an appointment using our easy to use online form.
Whether we decide veneers or a different cosmetic dentistry treatment is best for you, we're confident we can help you obtain the smile that you desire.