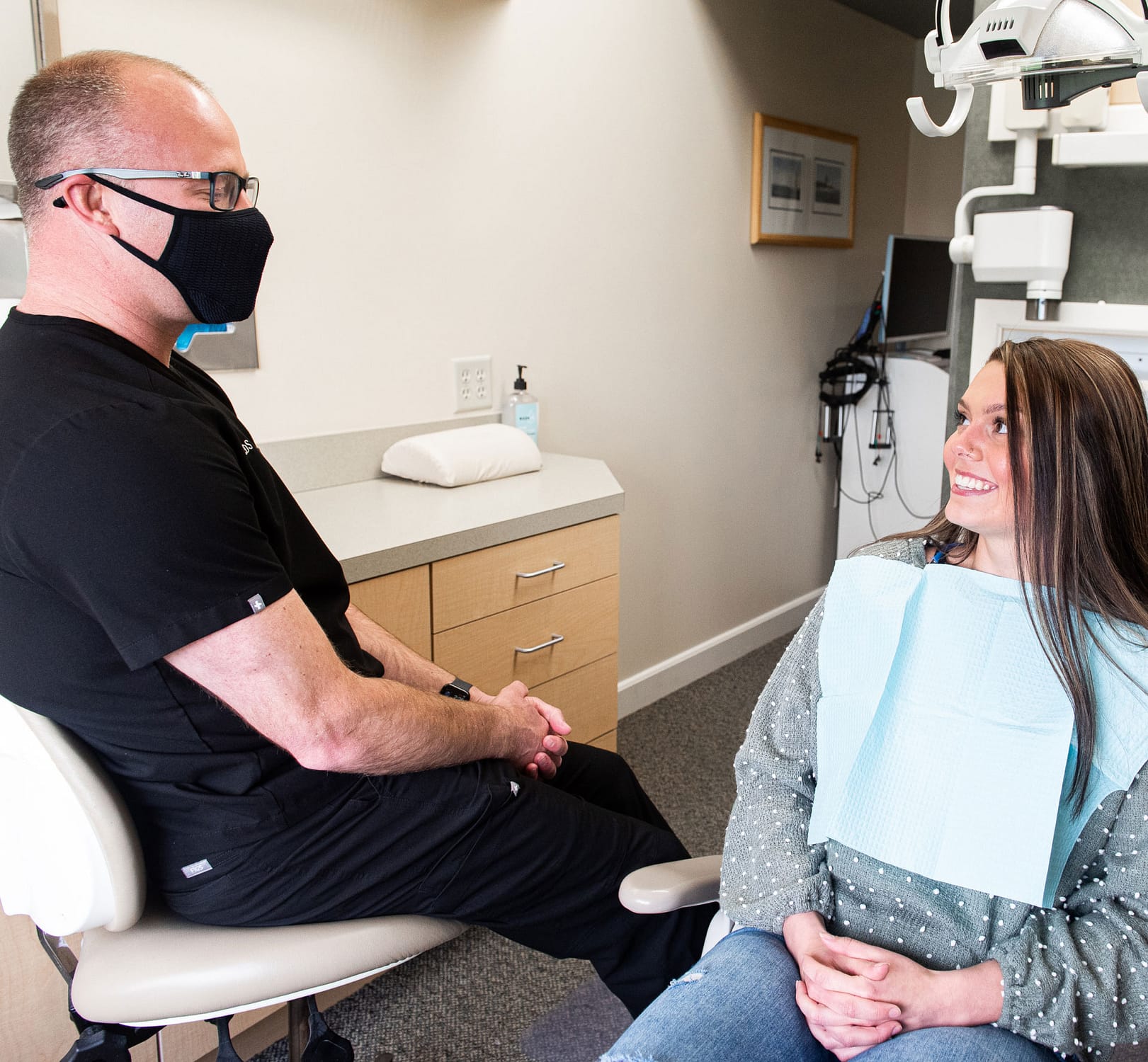 Technologically Advanced Care With Your Comfort in Mind
Technologically Advanced Care With Your Comfort in Mind
Preventative Care
Invisalign
We focus on supporting your health with noninvasive, easy-to-use treatments that don't disrupt your life. Invisalign can straighten your teeth quickly and conveniently.
Learn More about Invisalign
Neuromuscular Dentistry Expertise
Going beyond the teeth and gums, we use the latest technology to evaluate how your bones, muscles, nerves, and joints contribute to your oral function to help you achieve your healthiest, most comfortable smile.
Learn More about Neuromuscular Dentistry
Our Berrien Springs location brings technology to the forefront to improve your experience.
Our Berrien Springs office stands apart for its technological capabilities. With cone-beam and dental-laser technology, we're able to provide an unparalleled experience for those seeking preventive and restorative care. These tools allow us to gather detailed images in a fraction of the time that traditional methods require and enable us to offer comfortable, stress-free treatment to our patients. Our Berrien Springs location also houses our neuromuscular dentistry practice, where we are able to take a thorough look at how all elements of your mouth and jaw work together. This analysis into bone, nerve, muscle, and joint function helps us gain a better understanding of our patients' needs to improve their overall health. Rest assured that each dentist in our practice works out of both offices, so no matter where you visit us, you'll be in the best possible hands.
Dr. Christy has dedicated over 25 years to Berrien Dental, working at the office since purchasing the practice in 1996. His interest in dentistry is personal, having been profoundly impacted by breaking his front teeth as a child. He pursued a career in dentistry in order to maintain a hands-on career and have the opportunity to help people smile each day.
Dr. Balsis has been with Berrien Dental for over 12 years. He graduated from the University of Detroit School of Dentistry after studying human biology and human physiology at Michigan State University. Committed to helping all of his patients fix what ails them, Dr. Balsis prioritizes his continuing education, participating in the Las Vegas Institute for Advanced Dental Studies.
Dr. Bauman got into dentistry because it allows him to help improve people's lives on a daily basis. He completed his dental studies at the University of Detroit Mercy after studying biology and Spanish at the University of Michigan and comes to Berrien Dental with a background of combined experience in public and private practice.
What are you looking for?
Services We Offer.
Invisalign
An efficient, convenient, and discreet method to straighten your teeth and correct your bite, Invisalign achieves results without disrupting your daily life.
Learn More about invisalign
Crowns and Bridges
Fillings and Root Canals
Veneers and
Dental Bonding
Periodontal Therapy
Full Mouth Restoration
OFFICE HOURS:
Monday 8AM-5PM
Tuesday 7AM-5PM
Wednesday 8AM-6PM
Thursday 8AM-5PM