4 Top Reasons To Consider Getting Invisalign at Berrien Dental in St. Joseph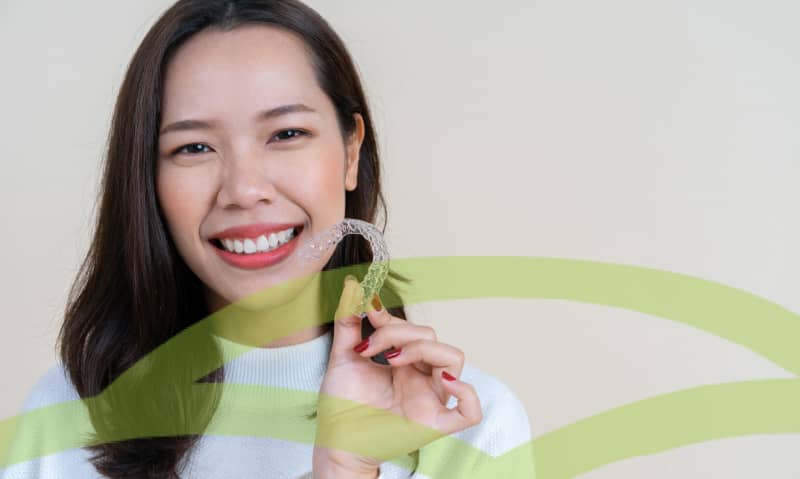 Have you ever wondered what makes a great smile? There are specific traits that many people associate with the best smiles, such as the angulation of the teeth, a lack of gaps between the teeth, and more. But not everyone is blessed with a great smile right off the bat. It's not unusual to have an overbite, underbite, crooked teeth, or some other concern that makes your smile just not what you want it to be. Thankfully, that's where Invisalign at Berrien Dental comes into play.
Why You Should Consider Invisalign at Berrien Dental
In the past, if you had a crooked smile, the solution was to get braces. But traditional metal braces often caused patients who wanted a straighter smile to avoid seeking treatment. The idea of having metal in their mouths for several months to years wasn't an option they wanted to pursue. Invisalign clear aligners hit the market in the mid-1990s and have been a game changer ever since.
Invisalign is an excellent choice for patients who want to correct one of the following dental challenges.
Misaligned teeth
Gap teeth
Overbite
Underbite
Crossbite
Open bite
The best thing about Invisalign is they are clear and removable! Read on for four reasons to consider Invisalign at Berrien Dental in St. Joseph, MI.
Four benefits of Invisalign
Some of the benefits of Invisalign seem like they're too good to be true. But we promise they're not. According to Invisalign, over 14 million people, including 3 million teens, have experienced the benefits of Invisalign to transform their smiles. Check out the amazing reasons why these clear aligners are so popular.
1. You can eat what you want.
An incredible benefit of Invisalign is you can remove them when it is time to eat. This differs from traditional braces, so you don't have to worry about food getting stuck between the wires and brackets. You need to wear your trays for 20 – 22 hours per day and clean your teeth after you eat.
2. Easy to keep your teeth clean throughout your treatment.
Every individual is different, and so is the length of time they'll undergo treatment. On average, people wear their Invisalign braces for about 12 months to get the correction they desire. But since you can remove your trays for two to four hours daily, it is easy to keep your teeth clean. Brush and floss your teeth after meals before you put your trays back in your mouth. While brushing your teeth, soak your trays in Invisalign cleaning crystals to dissolve plaque and kill bacteria. This process helps lessen your risk of developing tooth decay, especially compared to traditional braces.
3. Invisalign is an invisible treatment.
We alluded to this earlier. Invisalign aligners are clear and discreet. This means that while you are having your orthodontic treatment done, your friends and family may never know unless you tell them. Discreetly remove your trays at meals or during public speaking events, and no one will be the wiser.
4. Clear aligners are more comfortable than traditional braces.
While traditional braces are highly effective for adults with severely crooked teeth or for kids and teens who are still growing, they can be uncomfortable. Many patients find metal braces uncomfortable because of tightening wires' pressure on the teeth. Plus, all that metal in your mouth can be challenging for your tongue to get used to. Invisalign tends to be more comfortable than its metal counterpart because of its smooth design, and it applies less pressure on the teeth, overall.
The dentists at Berrien Dental are Invisalign doctors and experts.
Berrien Dental uses the newest technology to help keep patients comfortable while planning their orthodontic treatment. One of the tools we use is the iTero digital scanning system. This modern dental tool digitally captures the structure of your teeth and gums so your dentist can create a custom fit.
We also use Invisalign's mandibular advancement feature and other advanced treatment options for the best Invisalign results. Mandibular advancement is used to correct bite issues in preteens and teens who are still growing. This treatment is needed most often to correct an underbite. With an underbite in particular, correcting it will reduce instances of open-mouth breathing which impacts oral health. A misaligned bite can affect overall health later in life with an increased risk for temporomandibular joint disorder (TMJ disorder), headaches, and sleep apnea.
Once your orthodontic treatment is over, the dentist overseeing your treatment will prescribe a Vivera retainer. This retainer looks just like your Invisalign clear aligners but is designed to maintain the position of your teeth, not move them. By combining the initial Invisalign treatment with the Vivera retainer after treatment, patients will experience better results that will keep them smiling for years to come.
Talk to Berrien Dental in St. Joseph about Invisalign for you, or your teen.
We all want the benefits of a straight, brilliant smile. And Invisalign at Berrien Dental is just the ticket. If you wish to visit the Berrien Springs office or the St. Joseph dental clinic, our dentists are ready to help you with the cosmetic and restorative dental treatments you need. Request an appointment today.