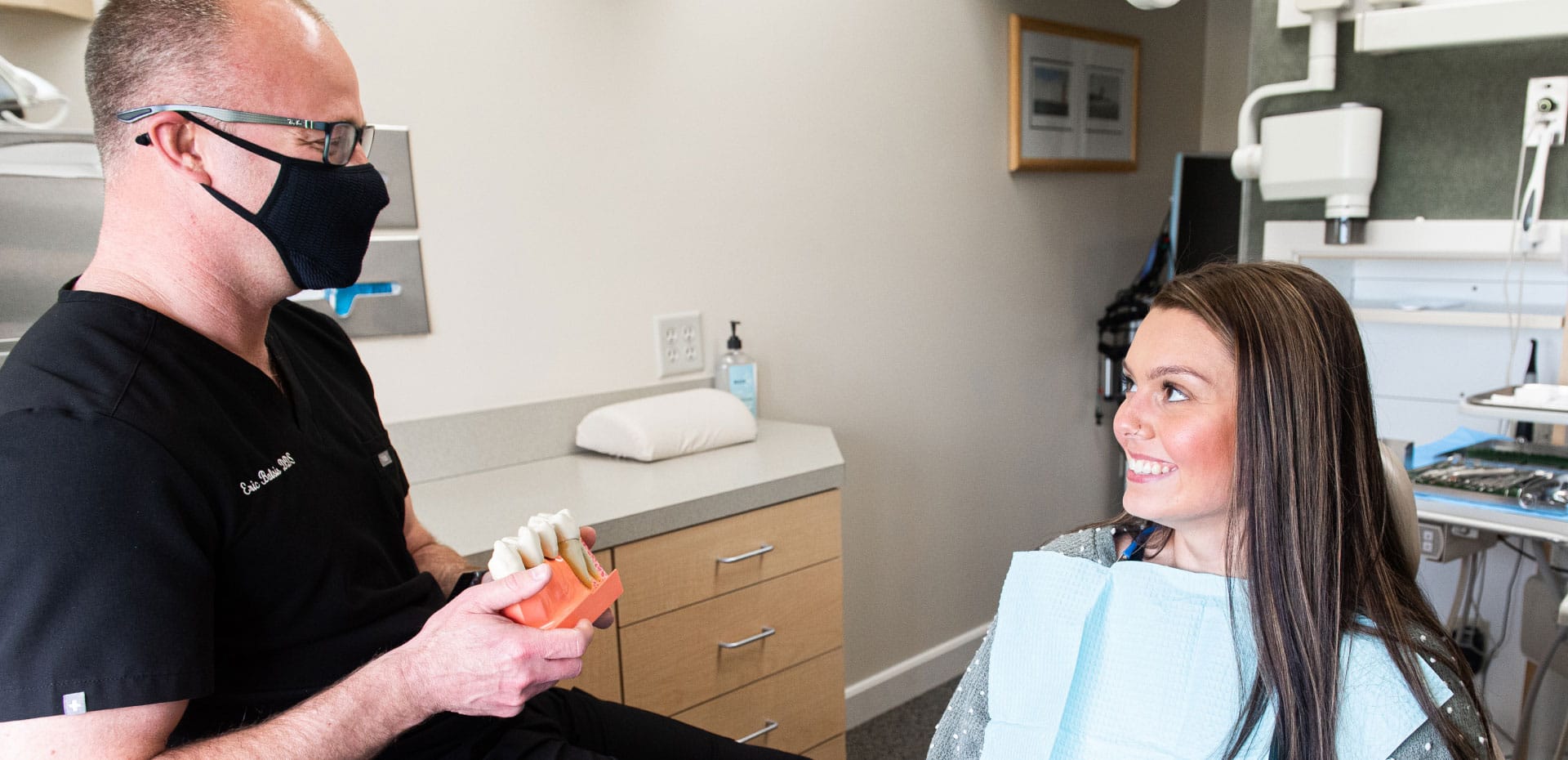 Revitalize your life with cosmetic dentistry.
Your smile should be a source of joy.
Let us help you keep it that way.
At Berrien Dental, we believe that cosmetic dentistry is about more than what's on the outside. It's about helping our patients prioritize their own health and well-being and improve their confidence so they can live more authentically. We specialize in providing innovative cosmetic treatments tailored to each patient's needs. Not only are we focused on improving the health and appearance of your smile, but we'll do it in a way that makes it as easy on you as possible. Cosmetic dental work shouldn't be complicated or disruptive to your life. That's why most of our services can be done within a few visits, and we take care to ensure that you are happy with your results.
Don't let imperfections hinder your smile.
Dental bonding can correct imperfections and restore your confidence.
Even if you prioritize your oral hygiene and take care of your mouth as best as you can, discoloration, chips, or cracks may happen. But just because they're common doesn't mean you have to accept them. We know that these imperfections can have a big impact on your quality of life. If you're self-conscious about your smile, dental bonding may be the perfect solution.
With cosmetic dental bonding, the Berrien Dental team applies tooth-colored resin to your teeth, seamlessly correcting any minor imperfections. Dental bonding is a quick treatment that often takes only one visit. First, we match the composite resin to your surrounding teeth, then lightly etch the surface of the tooth so that it can effectively hold the dental bond. Next, we coat your tooth with a conditioning liquid, apply the resin, and harden it under an ultraviolet light. Finally, your dentist trims, contours, and polishes the bonding to perfectly complement your natural smile.
The perfect smile doesn't have to be complicated.
Porcelain veneers provide a convenient, versatile, and long-lasting way to smile bigger.
A good smile does more than just improve how you look on the outside. It also helps you feel confident, supporting your emotional and mental well-being in ways that go far beyond the surface. That's why we specialize in porcelain veneers: We believe everyone deserves to have a smile they feel great about. Porcelain veneers are custom-made porcelain shells that improve the radiance and symmetry of your smile by correcting gaps, unevenness, chips, stains, and internal discoloration. They are available in over a dozen shades, making it possible for everyone to find the perfect fit and color to enhance their natural beauty. Porcelain veneers are fast and minimally invasive. They can improve a wide variety of cosmetic concerns and create stunning results that last for decades.
You shouldn't have to sacrifice beauty for function.
With porcelain crowns and bridges, you never have to.
When a tooth gets too damaged or weakened, a filling may not be enough. You might need a crown to prevent further damage and stop any pain or discomfort. The same may be true for a missing tooth. Bridging the gap between one or more missing teeth may be essential to preserve your facial structure and restore your smile's health and function. But rest assured, at Berrien Dental we make these treatments as simple and easy as possible, and we can do it all while preserving a natural-looking smile. Using porcelain crowns and bridges, we provide aesthetically pleasing and long-lasting restorations so that you can protect your oral health—and look good doing it. Our crown and bridge process is easy thanks to digital impressions that allow us to produce customized restorations for the perfect fit. You'll leave our office with a smile as unique and beautiful as you are.
Traditional metal braces can disrupt your life.
Invisalign provides a discreet, noninvasive way to gain the smile of your dreams.
Forget what you know about traditional braces. Gone are the days where straightening your teeth means wearing a device that is obvious, uncomfortable, and disruptive to your life or career. With Invisalign, our team can help you correct misalignment and bite issues discreetly and flexibly. With this method, you can remove your clear aligners to eat, brush, and floss as normal, and treatment can be done in as little as a few months depending on your case. Not only does Invisalign provide a way to improve the symmetry and appearance of your teeth without disrupting your life but also offers other health benefits. Misalignment and uncorrected bite issues can increase your risk of gum disease, accelerate damage, and increase tooth sensitivity. Luckily, with Invisalign it has never been easier to protect your teeth against these concerns while giving you the confidence of a radiant smile.
Quality dental care should always be accessible.
That's why at Berrien Dental, our financial policy allows us to provide you with the best treatment available, not limited to what your insurance plan covers. We'll happily submit your insurance paperwork electronically for you at the time of treatment. We also offer several payment options, including the CareCredit financing program.
For members of our community who have inadequate insurance or none at all, a Berrien Dental membership can help you afford dental treatment you need. This specially designed system operates like a savings plan and can be just the thing to help you more easily prioritize your health. Contact us today to learn more and see if you might qualify!