5 Reasons Saint Joseph, Michigan, Is a Beautiful Place in the Fall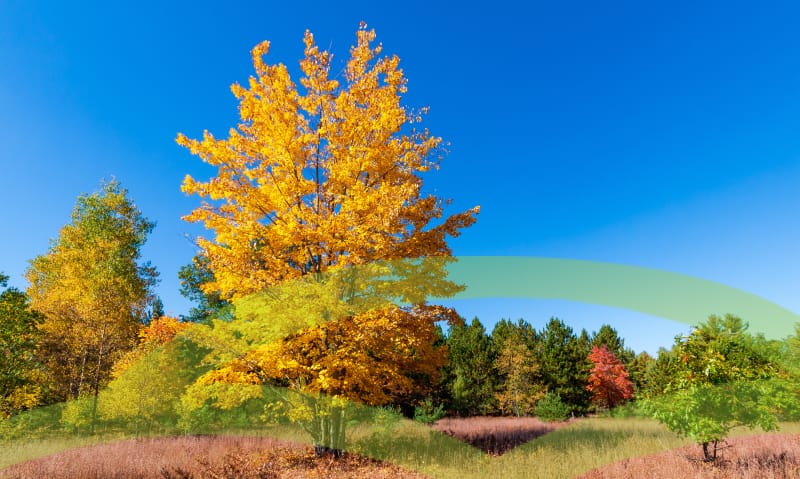 Embrace the cooler weather with these benefits of the autumn season.
It's never easy to say goodbye to summer, but the beauty of autumn always offers a bit of solace. The crisp air, the changing leaves, the seasonal spices, the plump pumpkins, the sprawling apple orchards—it's easily one of the most beautiful times of the year.
If you want to enjoy fall to the fullest, you need to be somewhere that wears the season well, and very few places in the country do fall quite like Saint Joseph Michigan. This little city is a joy to live in all year round, but it shines more than ever when summer passes, the days grow cooler, and the leaves begin to turn.
Being based in Saint Joseph, MI, we may be a little biased, but we think our city is one of the best in the world to enjoy autumn. Here are just a few of the many reasons why.
1. The Fall Colors
The shifting shades of the leaves give the fall its trademark warmth, despite the increasing chill. But you can't necessarily enjoy that ambiance everywhere you go this time of year.
You'll need to be around plenty of nature to savor those breathtaking fall colors, and Saint Joseph provides that no matter where you go, whether you're out on a nature hike, relaxing by the water, or spending the day in town.
Even downtown Saint Joseph, MI, has plenty of lovely foliage to put you in the spirit of the season. It offers the perfect balance of modern convenience and timeless natural beauty.
2. The Lakes
Relaxing by the water is typically considered to be a summer activity, but summer is also busy season by the shore. It's much harder to enjoy some much-needed leisure when you're surrounded by a crowd of other people trying to do the same thing.
Fall in Saint Joseph, MI, is perhaps the best time to enjoy the lakes, as they're less crowded and even more beautiful.
It might be too cool for a swim, but you can always go fishing or charter a boat out onto the lake. There's no better time of year to be out on the open water than after the heat of summer has died down.
3. The Hiking
There's plenty of hiking to do during fall in Saint Joseph, MI, whether it's along the Harbor Shores trails, through Hickory Creek Preserve or Knauf Park, or in one of the many other beautiful spots the area has to offer. Autumn is the perfect time of year for outdoor activities, as you're graced with optimal weather and stunning scenery to take in at every turn.
Not everyone likes to camp when the nights start getting cooler, and these people may not find fall hikes quite as nice without the comforts of a city nearby.
Fortunately, Saint Joseph gives you the best of both worlds. Our beautiful little city is right down the road from dozens of different hiking trails, any one of which you can get to with only a short drive.
4. The Wineries
The arrival of autumn is a perfect excuse to break out the wine, and what better way to enjoy your favorite vintage than by taking part in a fall wine tour?
There are more than a few renowned winemakers in the Saint Joseph area for you to check out. Set your own itinerary by picking out a few choice spots to visit, or hire a wine tour company to plan an entire day for you so you can focus on what's important—sampling lots of incredible wines.
Here's a friendly tip: if you overdo it on the reds, stop by Berrien Dental for a thorough teeth cleaning!
5. The Fall Activities
A ton of different autumnal activities happen in Saint Joseph every year. You can stroll through an apple orchard or pumpkin patch, take part in Oktoberfest, lose yourself in a corn maze, get spooked at a haunted attraction, or check out the Fall Festival at Lake Bluff Park.
Another great way to celebrate fall is by picking up some mouth-watering treats at one of our many local eateries. Your season won't be complete until you've filled up on treats featuring essential fall flavors like apple, pumpkin, cinnamon, cardamom, cloves, and nutmeg.
In need of a dentist in Saint Joseph Michigan?
After all the eating, drinking, and merrymaking you'll be doing in the Saint Joseph area this fall, you might require the kinds of services a good dentist can offer. Berrien Dental has got you covered. We serve patients of all ages throughout Saint Joseph and beyond, and we're always eager to make new friends. Give us a call or go online to request an appointment today!