Top 10 Healthy Halloween Foods Your Family Will Love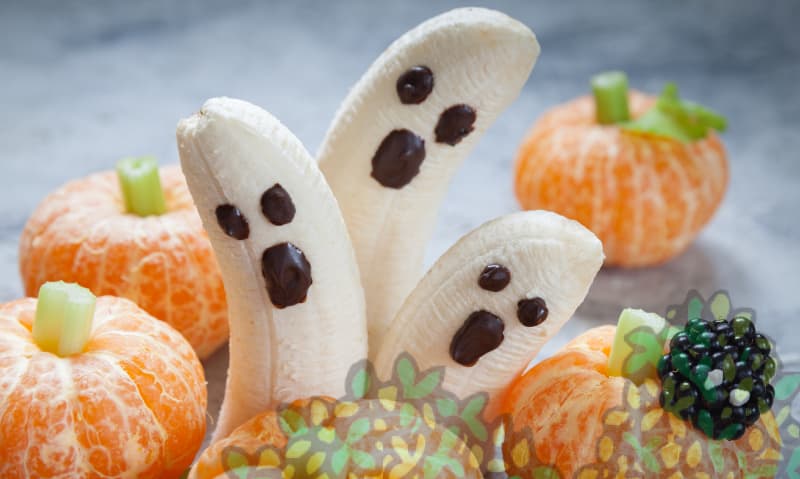 Food Swaps for a Healthier Halloween
School is back in session, the temperatures are dipping, and we're officially into the "-ber" months. This means the holiday season is almost here starting off with Halloween!
Ready to kick things off for Halloween? While this night is notorious for sugary sweets, you don't have to risk a cavity or a pint-size sugar rush to celebrate it.
With a few smart swaps, you can whip up scarily delicious treats that the whole family can enjoy. Today we're sharing our top 10 healthy Halloween foods to inspire you in the kitchen!
1. Spinach Monster Wraps
Looking for a lunch box treat that will make your little superhero smile?
Wrap their favorite veggies or deli meat in a green spinach tortilla, using a few smears of hummus to keep everything in place. Then fold the top and bottom under to form a small rectangle.
Top with a pimiento-stuffed olive cut in half to form two eyes and a slice of cheese torn into a jagged shape for the hair. Suddenly you have a mummy that looks almost too real to eat!
2. Cutie Pumpkins
These healthy foods are easy and fun. Simply peel a Cutie, but leave all the pieces intact.
Then stick a small, slender piece of celery into the top of the clementine. Voila! You have a healthy and festive pumpkin.
If you have a big bag of Cuties, then this is a great party snack. They're quick to prepare and look great on a platter.
3. Ghostly Bananas
This is another spin on a healthy, fiber-rich fruit!
To make the ghosts, just peel a banana and cut it in half. Lay both halves on your serving dish with the cut sides down, so the tapered ends are at the top. Then make two eyes and a mouth on each with semi-sweet chocolate chips.
Immediately you'll notice that your bananas look like tiny, surprised ghosts. The flavor combo of banana and chocolate is a perennial favorite!
4. Batty Energy Bites
These no-bake energy bites are a cinch to prepare and a hit with every age group. While they shine on their own, you can easily turn them into spooky treats with a few simple touches.
While the bites are still soft, make wings by breaking apart blue corn tortilla chips and sticking one on either side. You can even add two mini chocolate chips for the eyes!
5. Creepy Guacamole
We'll never turn down a big bowl of guacamole. Not only are avocados full of healthy fats, but they also contain nutrients, including potassium, that help fight tooth decay.
This year, instead of stopping at a guac platter, take it a step further and turn it into a witch! Embellish the bowl with shredded carrot hair and a tortilla chip hat. To add a little more personality, use sliced olives, gherkin pickles, and a slice of tomato to create a face.
6. Mummy Toast
Snacktime never looked so freaky!
First toast a few slices of bread. Then top each slice with sliced pepperonis, and add thin strips of hard provolone cheese. Arrange the cheese strips to look like a bandage over the toast.
Add two sliced black olives for the eyes, and pop everything under the broiler until the cheese melts. Within a few minutes you'll have miniature mummies!
We recommend using whole-grain bread instead of plain white slices for a greater number of nutrients.
7. Cheese Pizza Fingers
Were you planning on ordering pizza for Halloween night? Don't settle for slices on a plate. Think outside the box and create two sets of severed fingers!
Using a pizza cutter, slice the pie horizontally. Then cut it into thin, vertical strips to form the fingers. Top each finger with a piece of red bell pepper cut into a small triangle to form a nail.
8. Witch's Brooms
These healthy treats will pack easily into a lunch box and are sure to get the cafeteria talking.
To make the broom bristles, cut a slice of deli cheese in half horizontally. Then wrap the cheese around a pretzel stick. Secure it in place with a fresh chive, and use a knife or kitchen shears to cut the cheese into realistic bristles.
9. Candy Corn Veggie Plate
On its own, a veggie plate might not pique your family's interest, especially on a holiday known for decadence.
However, you can bring them to the snack table in an instant by simply rearranging the items. To give the illusion of candy corn, you'll need to find crunchy, raw veggies in the following colors:
We suggest chopped yellow bell peppers on the bottom, sliced or baby carrots in the middle, and large cauliflower florets on top.
Keep hummus, fat-free ranch dressing, and salsa on hand for easy dipping! While most people either love or despise the real thing, this is a great way to get the look of candy corn without the toothache.
10. Apple Bites
No, we're not talking about bite-size pieces of apple. Rather we mean apples that look like they could jump up and bite you!
To make these, slice one piece of green apple horizontally, forming a big circle. Break that circle in half, being careful to keep the skin-side seam together.
At this point you should have what appears to be a hinged jaw. You can create the illusion of a bloody mouth by filling the apple slice with strawberry jam. Use slivered almonds or marshmallows to create teeth!
Try These Healthy Halloween Foods
The day after Halloween, you shouldn't be scrambling to find the reset button. This holiday might be notorious for its sugar-laden escapades, but your family can enjoy healthy, dentist-approved snacks that are nowhere near as scary.
These are only a few of the many healthy Halloween foods you can choose from. Survey what you have on hand, consider what your family members will eat, and go from there!
In the meantime, Berrien Dental is here to keep your whole family smiling their brightest. Feel free to schedule an appointment online, and you'll find that we're all treats and no tricks!