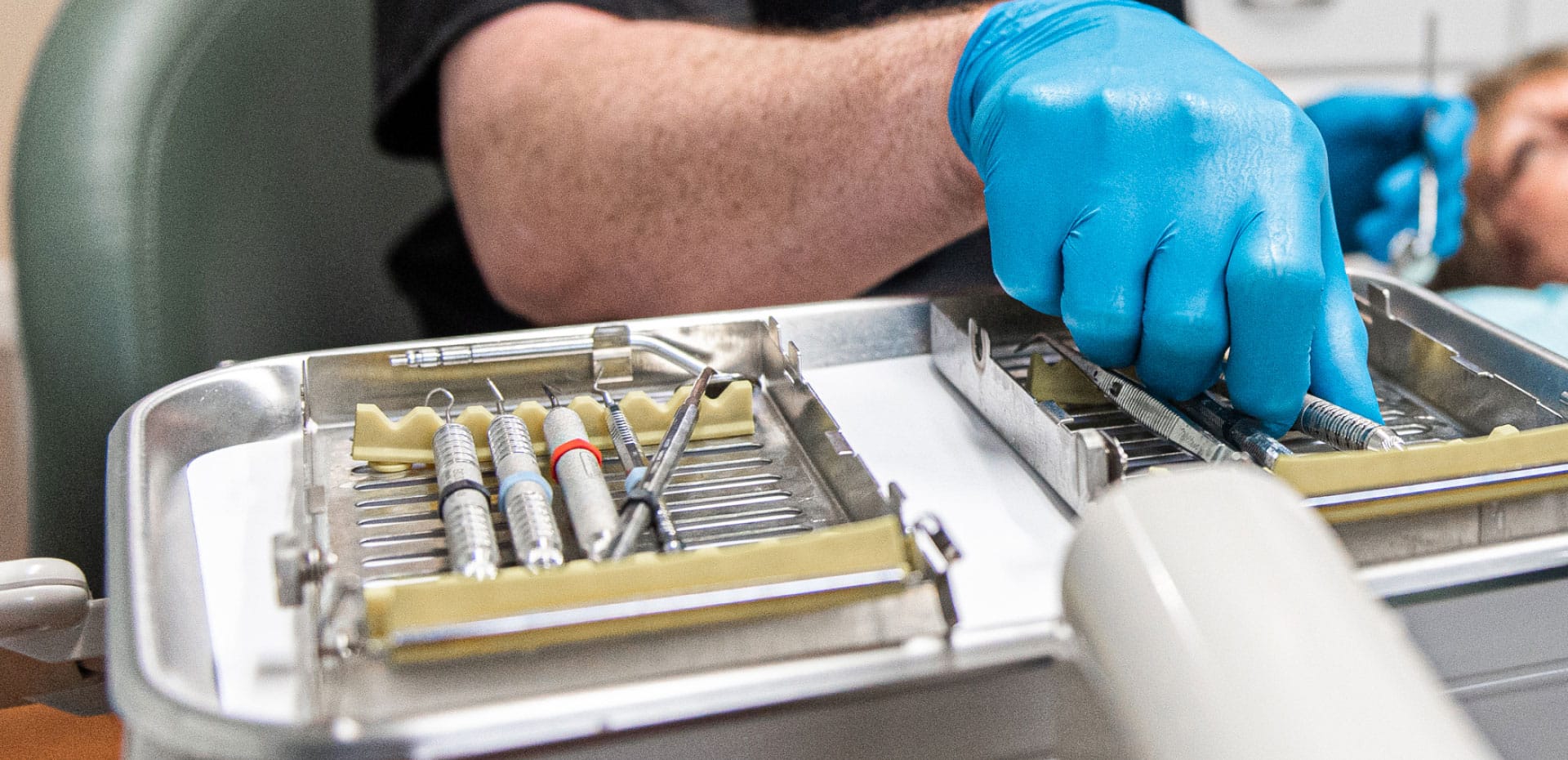 Our restorative dental services help you…
At Berrien Dental, no concern is too big or small.
Our expert team can help restore your smile to optimal health and beauty.
With our advanced knowledge, the latest in dental technology, and personalized care, the team at Berrien Dental is well equipped to help you navigate any dental issue you might be facing. From periodontal treatment to dental implants and implant-supported dentures to full mouth reconstruction, we're here to help you fall in love with your smile and support your oral and overall health. Left untreated, common dental issues can escalate and disrupt your life, impacting more than just your oral health. That's why every restorative service we offer is designed to support and protect the health of the jaw and mouth so you can leave our office with a smile that you can rely on for years to come.
When gum disease progresses, you need expert care.
Periodontal treatment is essential to restoring overall health.
Harmful bacteria have a tendency to sneak in with plaque buildup. This buildup can lead to gingivitis, a common but easily treatable condition in which your gums may feel extra sensitive. If left untreated, however, gingivitis can develop into advanced gum disease, also known as periodontitis. Chronic and severe, this gum disease can destroy bone tissue, resulting in tooth loss, and its harmful bacteria can even spread throughout the body and increase your risk of heart-related disease and events. Good dental hygiene and preventive measures can help, but there are risk factors like autoimmune diseases, menopause, poor diet, tobacco use, and even genetics that can make periodontitis more likely. That's why it's important to be aware of any changes in your mouth and gums and share any concerns with your dental team. We'll work with you to evaluate your oral health and stop gum disease in its tracks no matter what stage it may be at.
Tooth damage and decay happens.
Dental implants can make your smile brighter than ever.
Tooth decay, trauma, and other forms of damage can make it hard to feel confident about your smile. Luckily, today's dental implants can replace teeth that have been damaged beyond repair. The implant procedure replaces both the tooth and its root, preserving the jawbone from further damage and resorption. Modern-day implants have amazing advantages. They are stronger than bridges or dentures, they can be made to look perfectly natural, they won't shift or slip, and they can last much longer than other restorations, helping ensure that you get the most value for your money. If you find yourself in need of a dental implant, we'll work closely with you to conduct a thorough evaluation, come up with an appropriate implant treatment plan, and provide postoperative care to ensure that the results exceed your expectations.
Replacing multiple teeth is possible.
Implant-supported dentures provide a convenient, easy-to-use solution.
Like singular dental implants, implant-supported dentures are securely anchored in place, mirroring the structure, function, and appearance of natural teeth. This means that unlike conventional dentures, which rely on adhesives to hold them in place, implant-supported dentures provide a secure, low-maintenance option for replacing multiple teeth. They won't interfere with your ability to chew, speak, and smile normally. In fact, they'll even help support your bone health and preserve the structure of your face over time. Other than the occasional replacement of attachments and clips (a process we'll discuss closely with you during your initial evaluation), these implant-supported dentures require the same attention to care as natural teeth. With this modern approach, we're able to help our patients leave our office with beautiful, healthy smiles that last.
Misalignment impacts more than just your mouth.
A full mouth restoration can improve your quality of life.
Your teeth, gums, facial bones, nerves, and joints all work together to form a healthy mouth. When one of these pieces is misaligned or out of balance, the impact can be disruptive and painful. Symptoms like headaches, dizziness, difficulty swallowing, temporomandibular joing (TMJ) clicking or popping, pain, and more can all result from bite misalignment. Luckily, a full mouth restoration can bring you physical relief and revive your smile. At Berrien Dental, we'll work with you to identify any potential concerns by conducting a comprehensive evaluation of your health and jaw function. We'll use the latest in diagnostic technology to discover and diagnose any neuromuscular imbalances and come up with a customized treatment plan. We'll use a combination of corrective procedures and noninvasive treatments to address any imbalances you have and help you achieve a smile that is not only beautiful but comfortable and healthy too.
Quality dental care should always be accessible.
That's why at Berrien Dental, our financial policy allows us to provide you with the best treatment available, not limited to what your insurance plan covers. We'll happily submit your insurance paperwork electronically for you at the time of treatment. We also offer several payment options, including the CareCredit financing program.
For members of our community who have inadequate insurance or none at all, a Berrien Dental membership can help you afford dental treatment you need. This specially designed system operates like a savings plan and can be just the thing to help you more easily prioritize your health. Contact us today to learn more and see if you might qualify!