5 Ways a Dentist Can Make Your Smile Brighter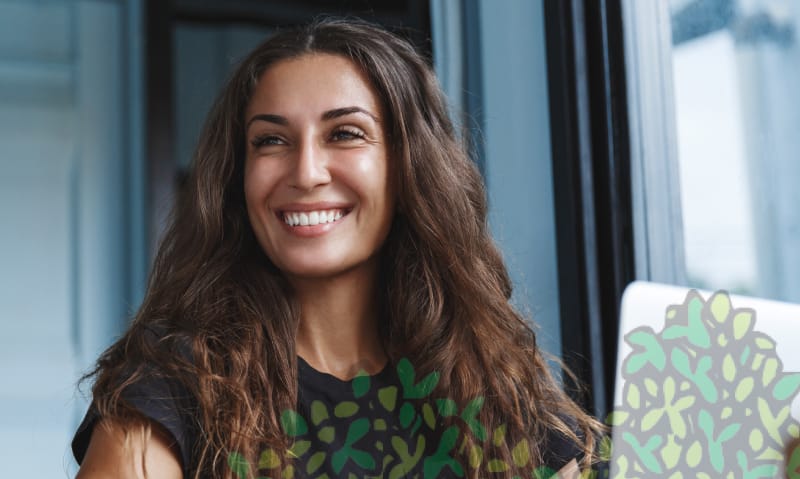 Everyone should love their smile.
Seventy percent of Americans feel self-conscious about their teeth. So, if you dream of a straighter, whiter smile, you are not alone.
You also aren't without options for improving your smile if you're considering your options. Dentists today have technology and skill on their side. They can help you with techniques that range from cosmetic fixes to comprehensive treatments to full-mouth reconstruction.
Perhaps you want to learn a little bit more about the ways a dentist can help you to smile brighter. Here are the most common techniques that they will consider for patients like you, starting with simple, cosmetic treatments.
1. Teeth Whitening Can Make Your Smile Brighter
The quickest and least invasive way to get a brighter smile is with teeth whitening. You may already know how this treatment works: a whitening treatment neutralizes discoloration and removes stains from teeth at the surface level.
A dentist will help you determine which type of teeth-whitening treatment is best for your smile goals. You may prefer to use an at-home whitening system, which works a bit more gradually — it's ideal for teeth with minimal staining. Or perhaps an in-office treatment with bright lights and stronger whitening agents that can quickly restore more discolored smiles is more in line with what you're looking for.
2. Veneers Can Make Your Smile Brighter
Whitening can change the color of your teeth, but it can't fix any other superficial imperfections. So, if your teeth have chips or unevenness, you will need more than a cosmetic fix. The same goes for overcrowded teeth or gaps in your smile, as well as for deep-set stains that whitening can't fix.
Veneers can be a great alternative to whitening, especially if you don't want a more involved procedure. A veneer is a porcelain shell that goes over your existing tooth to improve its appearance. They stay in place for decades, too.
However, not everyone is a candidate for veneers. For example, veneers won't adhere to teeth with too much decay, nor will they be an ideal option if you show signs of gum disease. Of course, this doesn't mean you're out of options. It just means you will need to undergo treatment with Dr. Christy and his team to make sure your teeth and gums are healthy and in good shape to receive veneers.
3. Smile Makeover
A full makeover falls somewhere between a cosmetic procedure and a comprehensive overhaul of your smile. In most cases, this option incorporates a few different treatments to give you the results you seek.
The components of a smile makeover will vary from patient to patient. However, the dentist will typically incorporate any combination of the following procedures, depending on what your smile needs:
Teeth whitening
Veneers applied to damaged teeth or those that cannot be brightened with whitening
Braces or Invisalign, which are used to re-position and straighten your smile
Crowns, which can also fix damaged teeth but are only used when they need more support than a veneer can provide
Your dentist will select the treatments you'd need from the above list to achieve your envisioned smile. With all treatments happening in tandem, you get an added bonus for your smile makeover: you should see results quickly.
4. New Teeth Implants
If you have missing teeth or decay that cannot be solved by a filling or crown, then your dentist may suggest implants.
In years past, you only had two options for filling any gaps or replacing missing teeth. You could get dentures or you could get a bridge. However, there is a third option that will give you the most natural looking results: dental implant.
Implants serve as replacements for damaged or missing tooth roots. The post implanted will fuse with your bone to create a strong base onto which your dentist can attach a replacement tooth that you will see. They can create a porcelain tooth that matches the teeth you already have so that the implant blends in seamlessly with your smile.
Once you have an implant, upkeep is easy — you clean them like you would the rest of your teeth. With proper care, your implant can last a lifetime.
And if you have an implant, you will do more than just fix your smile with it. It makes it easier to chew than a set of dentures would, for instance. Also, you get to protect the integrity of the teeth surrounding your implant.
5. Crowns Can Make Your Smile Brighter
Once you have an implant in place, your dentist will likely cover it with a crown. However, that's not the only way in which this option can restore your smile.
Crowns made of porcelain can be made to match — or improve — the color of your teeth. As such, they make a cosmetic upgrade and a structural one, too. So, your dentist might use crowns to brighten your smile, but they can also use them to fix damaged, weak, broken, decaying, or otherwise unstable teeth. The process requires two visits to our practice. During the first visit, any decay will be removed from the tooth.
From there, the dentist will take impressions of your teeth so that they can create custom crowns to fit your mouth. After that, they will apply temporary crowns for you to wear while the individualized set is made.
During a second visit, you'll get your custom-fit crowns attached. In the end, the porcelain crowns for your natural teeth will improve the color, symmetry, and straightness of your smile. Your teeth will be stronger, too.
How Berrien Dental Can Help You Smile Brighter
Here at Berrien Dental, we can help you smile brighter with any of the above-described dental treatments. Our skilled team, led by Dr. Todd Christy, can help you choose the right method to straighten, strengthen, and whiten your teeth. It's his passion to help patients smile with confidence.
So, if it's your turn to improve your grin, schedule an appointment online or give us a call. From there, we can work together to create your dream smile — one you'll be happy to show off.