Which Is Better: Dentures or Dental Implants?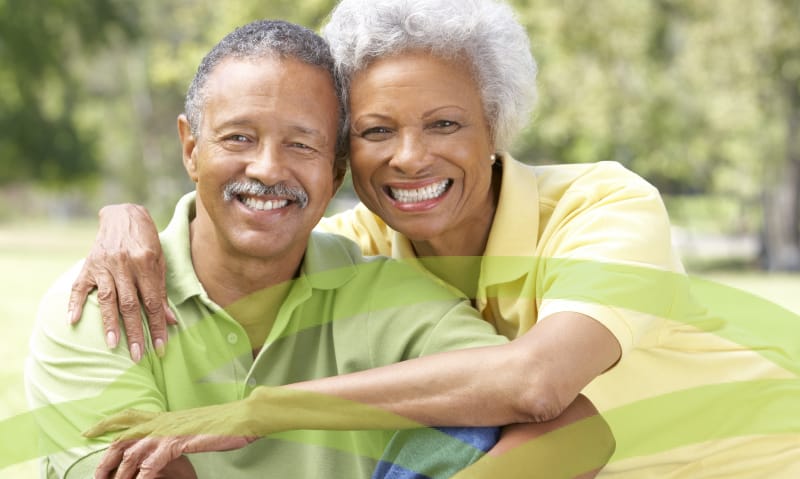 Take advantage of these incredible restorative options.
Everyone deserves a bright, healthy smile! If you have missing or badly decayed teeth, you might feel a little self-conscious. In addition, missing teeth can also impact your speech and make it difficult to eat and drink. Thankfully, there are dental treatments that can help.
Two of the most common treatment options are implant-supported dentures and dental implants. On their own, dental implants can serve as a single tooth replacement, or they can act as foundational support for implant-supported dentures. Both are permanent solutions that help replace a missing tooth or teeth.
Today, we're sharing the key differences between the two to help you make a more informed decision. Should you pursue dentures or dental implants? The answer depends on a few factors, so let's take a look!
What are dental implants?
If your tooth has been lost or damaged beyond repair, your dentist may recommend a dental implant. This is a comprehensive treatment that replaces both the tooth itself and its anchoring root. This helps preserve the bone for the long term and strengthen your overall jaw structure.
When you undergo dental implant surgery, your dental surgeon will first insert a titanium post where your original tooth root once was. This is an important first step that creates a sturdy base for the replacement tooth to attach to. This titanium "root" mimics a real root so much, your jawbone will actually fuse with it seamlessly, just as it would with a natural root. Then, once the post has grafted with your jawbone, your surgeon will place your new tooth!
Advantages of Dental Implants
Besides the fact that they give you a beautiful smile, dental implants are also stronger and more durable than a bridge or dentures. The results look natural and are designed to last for years to come.
In addition, dental implants are also held securely in place. This means they won't slip around as you eat, drink, or talk. As such, many people find them more comfortable than other tooth replacement options.
What to Expect After Treatment
Once your dental implant surgery is complete, you'll love the easy upkeep. Remember, a tooth implant is meant to mimic your original tooth! This means you can brush and floss it as normal, as well as swish it with mouthwash. Your dentist can give you additional tips on how to maintain your new tooth (or teeth) and keep it/them looking great for life.
What are implant-supported dentures?
Gone are the days when the idea of dentures conjured up a chattering mouthpiece submerged in water by someone's bed. Today, dentures are more comfortable and natural-looking than ever before. This especially applies to implant-supported dentures.
If you're not keen on the idea of traditional dentures, we get it. These mechanisms rely on a dental adhesive to ensure a secure fit, and that adhesive doesn't always do its job. When this happens, the dentures can slip and shift in your mouth, making it difficult to eat and speak.
Not only does this cause discomfort, but it can also lower your self-esteem and lead to embarrassment.
Thankfully, implant-supported dentures can help. These are a special kind of dentures that are supported by and attached to dental implants inside your jawbone. With this setup, you don't have to worry about them moving around in your mouth, as they are securely anchored into your jawbone. This allows them to look and feel as much like real teeth as possible.
Benefits of Implant-Supported Dentures
The secure fit and natural look are what initially draw most people to consider implant-supported dentures, but these aren't the only benefits they provide.
In addition, these dentures can also help prevent jawbone deterioration, or atrophy. If you're missing one or more teeth, your jawbone may slowly begin to deteriorate, changing the appearance of your mouth and your overall face. As they essentially serve as substitutes for your missing tooth roots, these dentures help maintain your bone health and can prevent this from happening.
You'll also appreciate how much easier it is to enjoy everyday activities with implant-supported dentures. Without dental adhesive to worry about, you're free to eat, talk, and smile with ease.
What to Expect After Treatment
Implant-supported dentures offer relief from the overwhelming task of maintaining your conventional set. While you may need to occasionally replace attachments or clips, the upkeep is minimal.
These dentures are meant to mimic your natural teeth, so you can treat them as such! As long as you visit your dentist routinely and stay on top of your oral hygiene, you can enjoy years of wear with them!
Implant-Supported Dentures or Dental Implants—Which to Choose?
As we've shared, both dental implants and implant-supported dentures offer incredible benefits that can help restore your smile and self-confidence. Each treatment can be effective in helping to replace your missing teeth and improve your quality of life. With that said, which one is the best fit for you?
Your dentist is the best resource for this question. A consultation can help reveal the extent of your issue and make it clear which route to take. Ultimately, the answer will depend on multiple factors, including the severity of your tooth loss, your lifestyle, and more.
Visit us for a consultation.
Are you ready to get a clearer answer on whether implant-supported dentures or dental implants are best for you? Schedule an appointment and visit our office for a consultation. We'll help you understand more about the benefits and considerations of each treatment, and we'll also recommend the best route for you. If you're used to hiding your smile, we'll show you the many ways each procedure can transform your looks and life.
This next step is an important one, so let's take it together! We have offices in Berrien Springs and St. Joseph, and we're ready to connect when you are.