Your Ultimate Summertime Checklist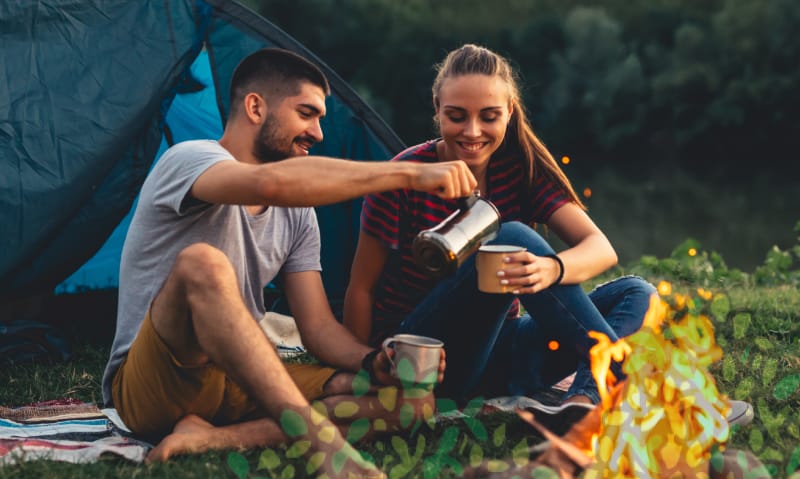 Make the most of your summer.
Summer's long, hot days and warm nights make it the perfect time to take a vacation or use your free time between work to kick back, relax, and have fun. There's just something about a summer day that brings up happy memories of lazy afternoons, backyard barbecues, and new experiences. Although continued social distancing recommendations will likely impact your summer plans a little, there are plenty of ways you can get out, have fun, and be social while following the government's recommendations.
Summer provides a seemingly endless supply of activities to do, but it can be hard to pin down these options when you're trying to plan your summer. To get you started and perhaps inspire a few unique ideas of your own, we've created a summer checklist of activities that will help you make the most of your summer.
Set up a picnic.
Packing a picnic and enjoying your lunch outside is a fun activity that makes a great date, family day out, or solo activity—making it perfect for people of all ages! You can pack up your lunch and eat it in your backyard or go to one of the many beautiful parks that Berrien Springs and St. Joseph have to offer. It's a good chance to spend some time outside in the sun, and many parks have dog parks or fields you can make the most of once you've finished eating, giving you the chance to get a little exercise.
Put a dent in your reading list.
When you're busy with work, errands, and keeping your kids on their own schedule, it's often hard to find time to read. Over time, this can cause your reading list to grow to mammoth proportions. Summer vacation is the perfect time to make a dent in your reading list—or maybe even catch up! Take a staycation and let yourself relax by spending as much time as you'd like reading all the books you've been wanting to explore for so long.
Go camping.
Camping is a great vacation idea, especially when your traveling options are limited. Even camping for just one or two nights allows your family to disconnect from electronics and focus on spending time with each other. Of course, if you'd like to keep a few electronics in the picture, you can bring along a few external battery packs. Campgrounds usually have plenty of great activities you can take part in, though, such as hiking, fishing, and even horseback riding, so you likely won't find yourself getting bored any time soon!
Roast marshmallows.
Roasted marshmallows is such an iconic summer treat that you're almost required to make them at least once each summer. Thankfully, even if you don't like camping and don't have a fire pit in your backyard, you can make roasted marshmallows right at home using a relatively inexpensive electronic marshmallow roaster. Whether you're inside the air-conditioned comfort of your kitchen or perched at the edge of a fire, the delicious treats give you a cozy, happy feeling at the end of a long summer day. Just make sure to brush your teeth after eating all that sugar!
Gift yourself a spa day.
Arranging a spa day for yourself is a great way to relax and unwind after a busy week at work or a long day wrangling your kids. You can splurge and schedule an appointment at an official spa, or you can have a budget spa day by spoiling yourself at home; buy a face mask and fancy soap, light scented candles, and let yourself soak in the hot tub for as long as you'd like!
Take online classes.
A great—and often free—way to spend your free time during the summer is to take an online class or two. There are plenty of free courses online, including several offered by Ivy League colleges, as well as paid subscription services that offer access to a wide range of online classes. You can use these classes to learn skills that would improve your performance at work, beef up your resume, or simply pique your interest.
Watch a movie at a drive-in theater.
Old-fashioned drive-in theaters aren't as common as they used to be, but they're a great way to watch a movie on the big screen from the comfort and privacy of your car. In addition to helping you avoid the crowds, drive-in theaters often have a pleasantly nostalgic feel to them, so it's a fun experience even if you don't make a regular habit of it.
Make homemade ice cream.
Ice cream is a popular—not to mention tasty—method of combating the summer heat. Making it at home is insanely easy, even without an ice cream maker, and while homemade ice cream is still a sugary treat, the lack of additives and the fact that you can control the sugar content better makes it a good deal healthier than what you'd buy in stores. Plus, it makes for a fun afternoon project for you and your kids!
Spend time with your friends.
As an adult, it can be hard to get all of your closest friends' schedules to line up well enough to hang out regularly. Since it's likely easier to coordinate everyone's schedules during summer, make it a goal to set aside time to spend with your friends, either in person or online. You can even set up a voice chat or group call and host a long-distance game night through services like Jackbox.
Start a new hobby.
If you find yourself with some extra time this summer, try starting a new hobby—especially if there's one you've always wanted to try but never quite found the time for. Starting a hobby like painting, woodworking, or even learning a language can be a great stress reliever and will keep you feeling busy and productive instead of bored.
The sunny skies and warm days that characterize the summer months mean you have nearly endless possibilities when you're choosing how to spend your free time. Whether you're hoping for a relaxing summer vacation spent at home or a chance to learn and try new things, making a list of the activities you want to do and tackling each one is a surefire way to help you create lasting memories this summer.