Invisalign vs Six Month Smiles: Which Is Right for You?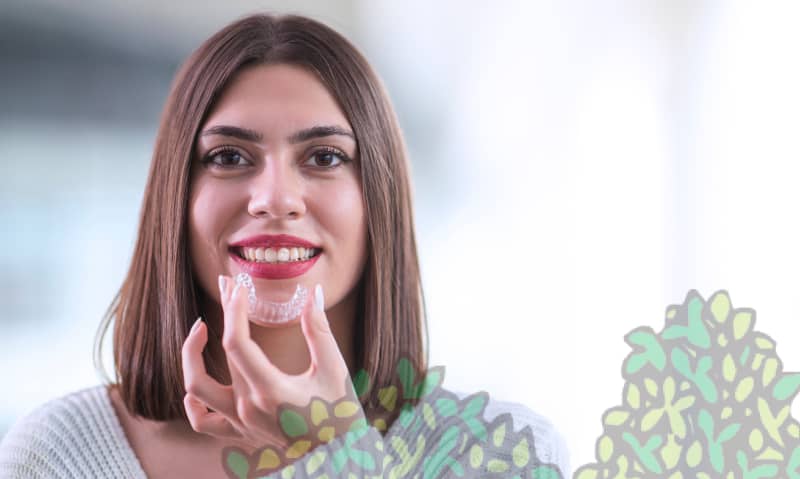 Choose the Right Orthodontic Treatment
If you're interested in orthodontic care, you have more options for treatment available to you than ever before. Clear aligner systems are a notable example of the advancements in modern orthodontics, but there are also braces with cutting-edge abilities. Two popular options for both categories are Invisalign and Six Month Smiles.
Berrien Dental proudly offers Invisalign for its efficiency, aesthetic appeal, and simple maintenance requirements. However, orthodontic care isn't a "one size fits all" service, meaning Invisalign may not be the perfect choice for all patients.
With that in mind, we want to educate our patients on why we love Invisalign and when an alternative option, like Six Month Smiles, may also be considered.
How Invisalign Works
Invisalign is the most popular clear aligner system available. It's in exceptionally high demand for teens and adults, two age groups that generally want to keep their orthodontic care a secret by avoiding metal braces.
Invisalign is very effective, with the average treatment time being about 12 months, give or take, depending on your teeth. The treatment process involves wearing clear aligners for 20 to 22 hours a day, only removing them for meals, drinks (except water), and brushing and flossing. You'll have a series of aligners in a set of 20 to 30 or more, replacing your current aligner with the next one at regularly prescribed intervals based on your specific straightening needs. Sometimes your dentist may recommend you to change your aligners every week.
Invisalign Pros and Cons
The most obvious advantage of Invisalign is that you'll be wearing transparent aligners instead of braces. Your Invisalign aligners won't be noticeable while you're chatting and socializing at a normal distance from others. Many patients go through treatment without anyone ever knowing they had Invisalign unless the patient shared their secret.
Invisalign aligners are also removable, which means you won't have brackets and wires in the way when brushing, flossing, or eating. This is immensely helpful for patients as they won't need to change their diet or feel frustrated trying to clean their teeth around braces. Maintaining optimal oral health during orthodontic treatment is essential, and Invisalign makes it much easier for patients to do this.
Overall, Invisalign has many benefits and few, if any, disadvantages. The only real con to Invisalign is that there are some limitations on the severity of malocclusions it can treat.
The average person who walks into our office interested in orthodontic care will likely be a candidate for Invisalign. But, if there is a very severe bite alignment issue or abnormally shaped teeth, Invisalign may be unable to treat the problem. In these situations, braces are likely a better option.
What Six Month Smiles Offers
Six Month Smiles is an orthodontic treatment program similar to traditional metal braces but with a modern twist. The two primary characteristics of Six Month Smiles are their subtle, tooth-colored design and their ability to straighten teeth in only six months.
Let's take a closer look at these two factors and compare them to Invisalign.
Discreet Braces and Wires
Six Month Smiles works the same way as traditional metal braces by shifting and aligning teeth through brackets and wires. The big difference is Six Month Smiles uses clear brackets and tooth-colored wires. This discreet design is more aesthetically pleasing compared to shiny metal braces, though it doesn't compare to the subtlety of Invisalign.
Simply put, Six Month Smiles braces blend in better than metal braces, but they are still obvious compared to clear aligners. However, if Invisalign isn't an option for your smile and braces are necessary, Six Month Smiles may be more attractive to you than metal braces.
Treatment in Six Months
As the name suggests, Six Month Smiles is best known for its super-fast treatment plans. It focuses on realigning anterior and posterior teeth—the teeth visible in your smile. Invisalign straightens anterior and posterior teeth, which takes more time to achieve.
If a person only wants to straighten their front teeth to close a gap or address mild crowding, they could see results with Invisalign just as quickly as Six Month Smiles. The only difference is the primary goal for each service; Invisalign focuses on a total smile makeover and functional bite realignments, while Six Month Smiles focuses on quick results for a cosmetic enhancement.
Final Thoughts
While Six Month Smiles is impressive in what it can do, we believe the oral health advantages of Invisalign treatment are well worth it. Six Month Smiles is limited to treating only the anterior teeth and is similar to traditional braces as maintaining oral hygiene can be challenging, and they change the physical appearance of a person's smile.
Straighten Your Smile with Invisalign at Berrien Dental
If you've been dreaming of a straight smile and the confidence boost that comes with one, the Berrien Dental team can help make it a reality. One of our skilled dentists will evaluate your smile, take digital X-rays, and chat with you about your options. We provide Invisalign for our patients, and we can provide referrals to an orthodontic specialist if you have a malocclusion too severe for treatment with clear aligners. Schedule your consultation today by calling your preferred Berrien Dental location or requesting a visit online. We have offices in St. Joseph and Berrien Springs, MI.